In-depth Analysis of Ginza Eternity: A Potential Metaverse Chain Game with Massive Returns on BSC Ecosystem
At just the initial booming stage, major technology blockchain giants has since entered the gameFi industry by launching their own blockchain game projects with different derivative modes, led by the BSC (Binance Smart Chain) ecology. According to DappRadar data, the current top ten blockchain games, 4 of these games are based on BSC. BSC ecology has even surpassed ETH, becoming the most dazzling chain in existence of game ecology incubation.
The most highly anticipated release on BSC would be Ginza Eternity. Ginza Eternity successfully took BSC by storm during when the metaverse the promotion and the development of Gamefi+NFT via the BSC ecosystem. With the launch of the Ginza Eternity metaverse chain game, the total value of its ecological governance token GINZA on Pancakeswap's liquid pool has reached an exponential growth to $3,500,000.
The high market liquidity is possible from the huge following of community behind Ginza Eternity. Ginza Eternity is produced by Japanese game studio Ginza. It has gained over 50,000 beta users in more than 20 countries and regions around the world. The users are all over Japan, South Korea and Southeast Asia. With huge demographic of retirees to teenagers, Ginza Eternity has since built a huge following.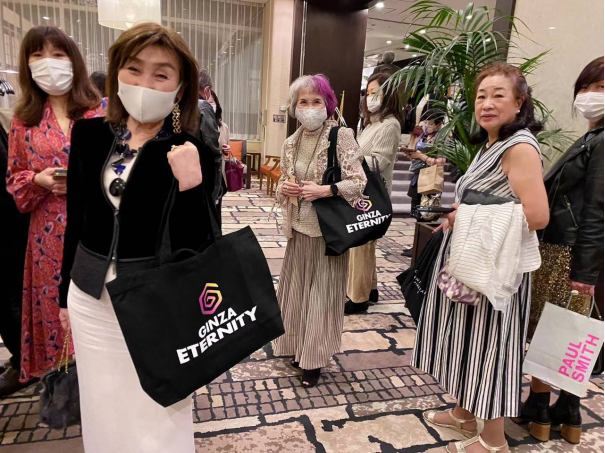 What kind of game is Ginza Eternity and why is it so magical?
Ginza Eternity strength is in its simple gameplay which makes it accessible to anyone. Players challenge the Boss by incubating and upgrading their own heroes in the game, and engage in PvP (Player vs Player) duels with other players to obtain tokens. It may sound like a typical P2E (Play to Earn) game, but Ginza Eternity has created new innovations and breakthroughs that makes it a game not to be missed.
One instances would be on the basis of competitive games. Ginza Eternity expands through a diversified ecosystem which including storage cloud platform, game distribution platform, game item trading platform, NFT item asset exchange, advertising platform, metaverse mining and incubator. All in all to provide players, miners, R&D, channel providers, etc. A complete game solutions where this provides users with an expanded possibilities for exploration.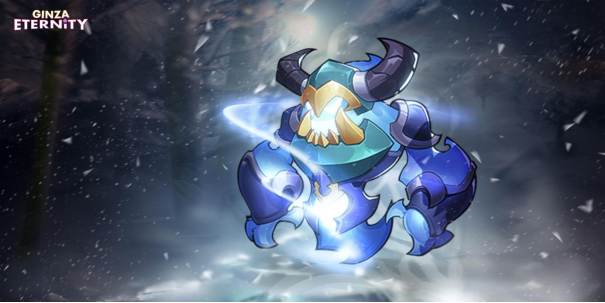 Ginza Eternity Introduction
Ginza Eternity is poised to be one of the most exciting blockchain game in 2021. It is the first blockchain game ecological project launched by GEC's game studio. GEC is a community ecological project with a huge following base in Japan and Southeast Asia and the gameFi development team are based from Malaysia. They have been focused on multiple ecological fields such as NFT+DEFI+DAO+GAMEFI. The developers have vast experiences in creating blockchain game development and operating them to success. At present, they have garnered more than 20,000 global community users and still counting.
Ginza Eternity universe is made up of heroes from the Human Race, Fairy Tribe, Angel Guild, and Demon Clan. They have gathered in world of Ginza to form an alliance to stand against the evil bosses. Four main races forms the universe: the Human Race, Fairy Tribe, Angel Guild, and Demon Clan. Every different races have their Hero Class Advantage which has 15% Damage / Defence Bonuses.
Human Race have great endurance and perseverance.
Angel Guild possesses divine power and recovery abilities.
Demon Clan are strong in spiritual with the ability to summon curses.
Fairy Tribe are hunters hidden in nature with agile attackers.
Plays can form multiple combinations in the game by choosing different hero characters to fight making Ginza Eternity a fun and thrilling Play to Earn game.Most importantly, all digital assets obtained in the game can be traded and sold to other players to receive all the token rewards
NFT Brings New Vitality
In the metaverse world created by Ginza Eternity, players can obtain special powers and great returns through the usage of NFT GE Hero Blind Boxes. This formats will definitely be the most sought after digital assets in Ginza Eternity.
NFT GE Heroes Blind Boxes have the following rarities:
One Star: Grade C - 65.75%
Two Star: Grade B - 30.25%
Three Star: Grade A - 3.75%
Four Star: Grade S - 0.25%
Five Star: Grade SR
Six Star: Grade SSR
NFT GE Heroes Blind Boxes contains Grade C to Grade S Level Heroes. GE Heroes in the blind boxes can be sold directly on the marketplace. If you chance upon a Four-Star Hero, be prepared to make additional income of ten folds!)
Grade SR – Grade SSR Level Heroes can only be obtained through fusion mode. The fusion mode will be available when the BOSS Battle mode starts. Players can increase the rarity of the heroes which increases their attribute values through the fusion of their heroes. The higher the level of all heroes, the higher their attributes and growth attributes. Heroes with powerful and advanced levels will obtain more resources more efficiently. The more powerful and advanced GE Hero will get you more resources efficiently. GE Heroes can be directly traded for high returns by selling through the marketplace.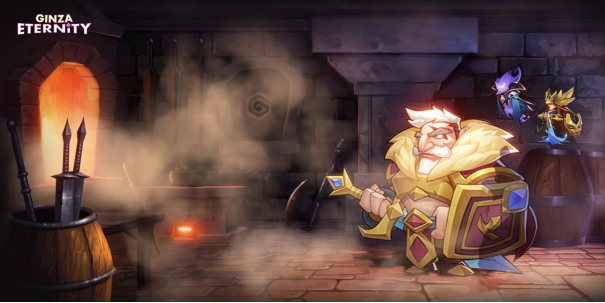 Besides the NFT GE Hero blind box, there are also NFT Scared Artifacts & Protective Gear which has their unique rarities and they are also tradeable. NFT Sacred Artifacts and Protective Gear are can be mainly obtain by drawing Sacred Artifact blind boxes and participating in world BOSS battles. With these equipped items, they can help players improve in their combat and defense capabilities, making winning easier and thus gain more rewards in a shorter period of time. The acquisition and circulation through trading of NFT assets in the game will make Ginza Eternity's metaverse ecosystem a very vibrant and exciting platform.
Ginza Eternity Gameplay
The gameplay of Ginza Eternity is simple compared to other blockchain games. However, there are elements added that makes it more interesting then what is existing in the market. Here are three main gameplays for every players.
1. Hero Adventure
After obtaining a GE hero, the player chooses FIGHT MONSTER to participate in the battle adventure, minimum with 1 and max 3 heroes to participate. Each time a level is completed, energy points will be deducted until all the points exhausted. Players will be rewarded with an indefinite amount of EXP and GEC token rewards for each level completed.
2. World Boss Battle
There are three levels of difficulty in BOSS battles: Entry, Intermediate, and Pro-Gamer level. Each difficulty has different requirements for entry conditions and different rewards tier. The higher the level, the higher the entry conditions which returns higher amount of rewards. When the BOSS is defeated or the time runs out, the game will ends. If the boss is defeated, 5% of the reward will be allocated to the last killer, and the remaining 95% will be equally distributed by each player's damage to the boss. If the time runs out before the BOSS is defeated, 50% of the reward will be divided by the damage each player caused to the boss; the remaining 50% is sent to the development wallet for preparation of the next battle.
3. PVP mode
Players enter the battlefield and battle in PVP mode with the players through the ladder ranking system. The winner of each PvP challenge will receive rewards and ladder scores. The loser will lose physical strength points and receive no rewards. Ladder scores are accumulated and used for season reward rankings. The higher the ranking, the more generous the rewards will be. This gameplay truly segments the top players of the metaverse. It may be a tough journey at the start for most players but the rewards will be of the most amazing if one were to achieve this level of competition.
Players can obtain tokens and NFT assets in from the 3 gameplays as explained above. Players can sell them through Ginza Eternity NFT marketplace. This is an intermediary platform for the exchange of heroes and items in Ginza Eternity. Players can list their heroes and NFT items in the trading market and with their own prices and players can place a bid or make a purchase at any time.
Players would do not wish to sell their items can use the fusion function to merge two heroes with the same star rating to obtain a higher rated GE hero NFT which requires a small amount of GEC as a fee. Fusion can eliminate the issues of players acquiring similar heroes of the same level and in return be sold at a better price in the NFT market. Fusion Heroes has a higher attributes which makes them an ideal upgrade for wining fights.
Advantages of Ginza Eternity
Ginza Game Studio began development and exploring blockchain games since 2020. The team's experience in game development, marketing and operations has since led to a continuous growth in community numbers which makes blockchain game project like Ginza Eternity successful. As from the perspective of gameFi design, Ginza Eternity's gameplay and tokenomics model have been greatly improved and innovated compared to other top existing blockchain games in the industry. Ginza Eternity is created with better game attributes and huge development potentials.
Ginza Eternity's has since been the Potential Metaverse Chain Game with Massive Returns on BSC Ecosystem which has develop the P2E model to the extremes.
In the virtual world of Ginza Eternity, players can enjoy explore infinite amount of challenges and with the most profitable returns. No matter whether you are avid gamer or just started your first game, you will be able to adapt to Ginza Eternity quickly and easily. With step by step and varieties of game mode for Ginza Eternity, you will ultimately become a true avid metaverse blockchain game player.
From our expert views, the intention of creation/contribution is what makes the metaverse world an explosive one. Together with a sustainable network-based ecosystem, Ginza Eternity will self-circulate, self-incubate, self-evolve, and self-innovate till it achieves unprecedented level of success and prosperity. Ginza Eternity's game mechanism functions will allow players, miners, R&D, and distributors to be able to contribute to the entire ecosystem and the evolvement Ginza Eternity. All in all to continuously self-governance and grow as one while attracting more blockchain gamers with different objectives from all around the world.

Ginza Eternity Roadmap
How to start your journey on Ginza Eternity?
1. Connect to the e-wallet
Game link:
The login method is shown in the figure: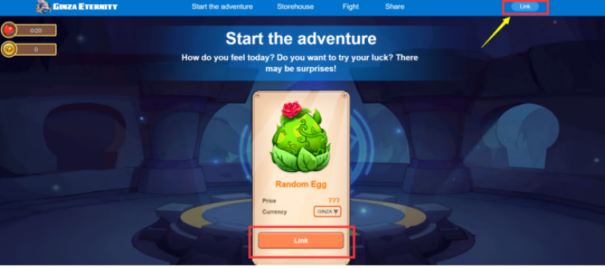 2. Purchase GINZA tokens on the Pancake
(contract address: 0x32d7DA6a7cf25eD1B86E1B0Ee9a62B0252D46B16)
3. Purchase a Blind Box (Hatch Heroes)
Buy a blind box and hatch the blind box. Heroes you have obtained will be displayed.
Many well-known blockchain gamefi has since begun to study the profiting strategies adopted by Ginza Eternity. This in return has attracted more players to join and improve the overall Ginza Eternty gameplay and the P2E operation model. With continuous cooperation and more companys hoping to invest in Metaverse, Ginza Eternity's players are most likely to experience and explosive growth and returns. There is no doubt in the very near future, Ginza Eternity assets will reach unprecedented heights faster and higher than any other gameFi in the market.
Disclaimer: This article is reproduced from other media. The purpose of reprinting is to convey more information. It does not mean that this website agrees with its views and is responsible for its authenticity, and does not bear any legal responsibility. All resources on this site are collected on the Internet. The purpose of sharing is for everyone's learning and reference only. If there is copyright or intellectual property infringement, please leave us a message.